Being an eco-responsible Festival
Our commitment since 2009
Ecology, biodiversity, waste management, energy, responsible consumption, social cohesion, supply chains, involvement on the land, solidarity, etc.
Every year, we set up new initiatives to reduce the environmental impact of our festival. We count on every festival-goer to play their part!
Every action we take for the planet counts.
Numerous water points are available on site, free of charge.
So, bring your flask!
Our actions for "living well together"
Take part in the economic
development of the land
Offer sustainable
and healthy catering
Reuse, reduce and recycle waste
Maintain biodiversity
and preserve resources
Develop accessibility for
people with disabilities
Mobilize and raise awareness
Strengthen the social unity
of the event
Cooperate and exchange good practices (Chassepierre is part of the Demo network)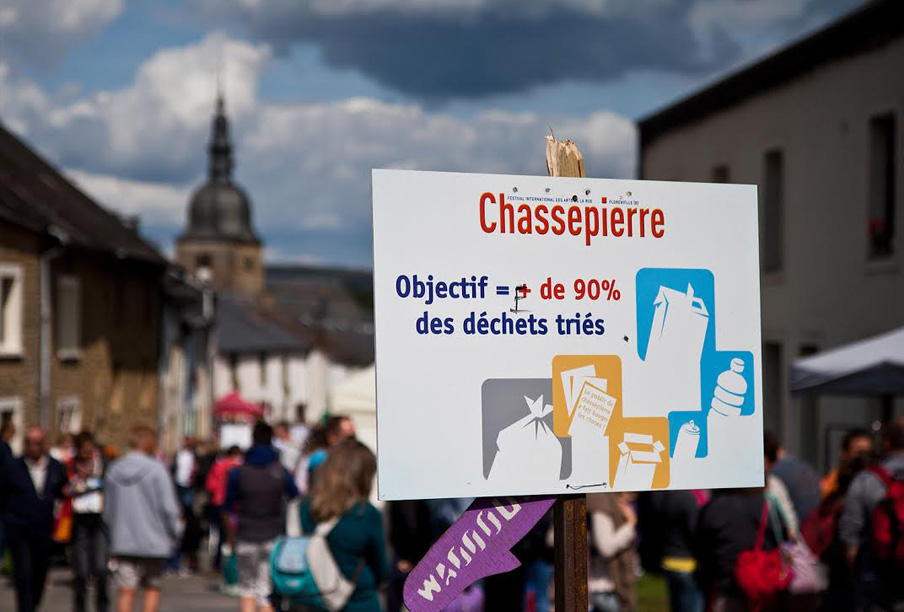 Festival-goers Please adopt these "nice" gestures!
Make responsible purchases
Favour local, organic or fair trade products. Only buy what you really need.
Reduce your waste
Avoid products that generate a lot of packaging. Glass and metal cans are banned from the festival. Bring your own flask instead.
Choose battery-free devices / solar chargers.

Do not distribute flyers or other advertisements that generate waste. This is not allowed at the festival.
Soft mobility: come to Chassepierre by train, bus, carpool, bicycle, ...